The venue that hosted both the wedding and the baptism of their son
A private elegant wedding in Greece, for two really "private" people, a loving couple and two good friends! The fact that the couple combined their wedding with the baptism of their beloved son, made the day even more special. The couple chose the "Erofili" venue in the center of Athens that hosted both orthodox ceremonies and the celebration lunch.
The two ceremonies under the unique notes of the harp
The two ceremonies took place at a small white chapel, in broad daylight among the closest family and friends of the couple. The sound of the wedding march emerging from the harp, made an indelible impression on the guests.
There's nothing more chic and glamorous than welcoming the guests under the unique atmosphere the harp notes make. Four beautiful little girls walked down the aisle before the bride, strewing white rose petals that symbolize purity and fertility.
The arrival of the bride and giving her away
The arrival of the bride alongside her father is always the high note of the day. Giving away the bride from her father to the groom is an old tradition that nowadays represents the beginning of a new life with her husband.
White Flowers | Pure Perfection
Decoration based on white flowers
In terms of the decoration, white orchids, white hydrangeas, and white roses, were the perfect choice for the happiest day of the couple's life. These delicate white blossoms are closely associated with purity, innocence, and perfection, while white roses constitute the best bridal flowers.
Decoration of the tables
Tall silver candelabras with white natural flowers, Swarovski crystals and white tall Venetian style candles, decorated each table. Tablecloths in blue and grey tones, created an elegant and luxury atmosphere. The wedding favors laid great emphasis on the element of the sea, in that they depicted a small ship, while the colors of white and blue were notable.
Perfect Instagram stories using the couple's hashtag
Beautifully chosen furnishings added a more delicate touch, making each photo a unique opportunity for the perfect Instagram story. Always using the couple's hashtag, all the wedding moments created cherished and everlasting memories.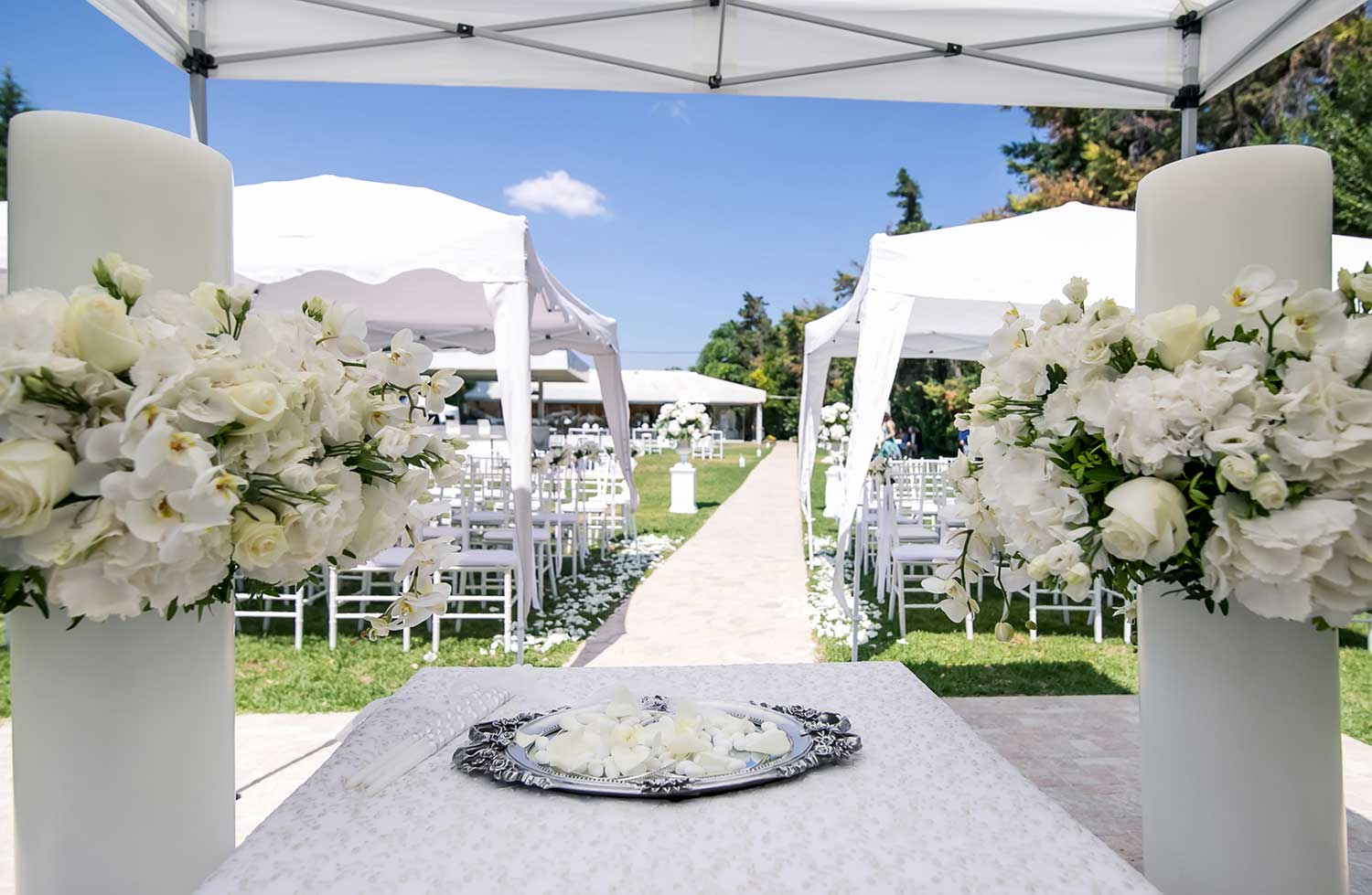 Get in touch with us and plan your private wedding in Greece the way you imagine it.!